INA WESNO (Acrylics, glass)
84 Belle Baie Lane
Mindemoya, ON
P0P 1S0
705-377-7010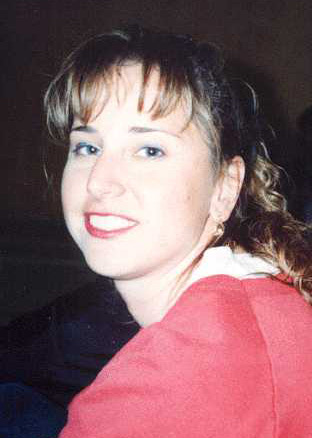 I grew up painting landscapes and wildlife around me in a small rural community called Rydal Bank in Northern Ontario. I started in earnest with oils when I was twelve before switching to acrylics as I got involved with the teaching of art.
I developed an intense interest in Northern themes during my six years of teaching in the Arctic, with work being displayed at the Iqaluit Gallery of Fine Arts. The Far North's powerful landscapes still provide challenging subject material and I find myself often drifting back to explore its captivating themes of polar bears and dog teams. While teaching highschool art in Hall Beach, I dabbled with muskox horn carving but prefer to stick to painting.
Since moving back to Ontario here on Manitoulin Island, I have begun experimenting with portraits and rural themes - in between teaching and parenting full-time. My daughter has provided new challenging subject matter to explore recently and my latest work is of her, entitled "Small Wonders". Now, I'm hoping to continue teaching highschool art and focus on both Arctic and local Northern Ontario themes in my work. I also wish to expand on my exploration of wildlife themes in the upcoming years.
Of late in my work, I try to focus on manipulation and application of vivid colour to bring out the intensity or essence of a scene rather than focusing on too much detail. I paint to capture a moment in time of some fleeting aspect of life and consider my work a success when my work can also capture a viewer's attention long enough to appreciate that moment.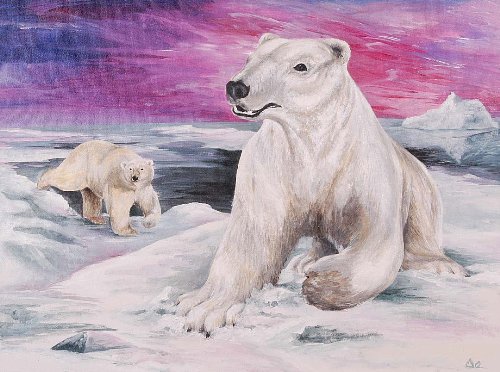 Polar Bears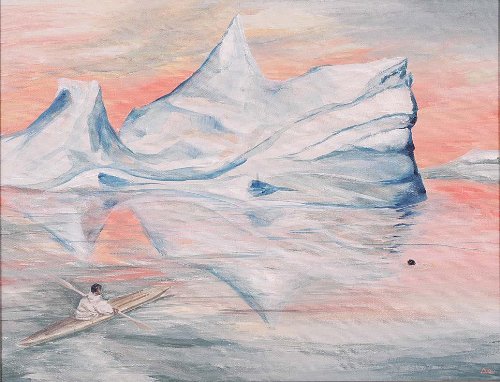 Quyag Hunt



Memories