IVAN T. WHEALE LL. D. (Oil & watercolour)
Represented by:
Perivale Gallery, Spring Bay
Artists On Elgin, Sudbury
P.O. Box 40,
Little Current, ON
P0P 1K0
705-368-3305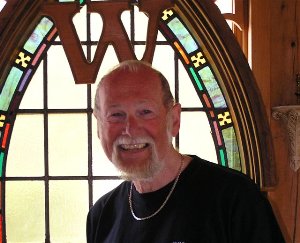 Born Sunderland, England, 1934. Settled in Canada 1957. Began painting professionally 1960. Lived in Sudbury until 1975. Lives on Manitoulin Island.
Has held 86 Solo Exhibitions including three major Touring Exhibitions circulating through Ontario. A Ten Year Retrospective, The McDonald Gallery, Queen's Park, Toronto. A Fifty Year Retrospective, The Centennial Museum, Sheguiandah.
Included in 54 Group Exhibitions: The Acute Image in Canadian Painting, Owens Art Gallery, Mount Allison U. , and Watercolour Painting in Canada Today, U of Waterloo.
His works hang in 42 Public and Corporate Collections including:
The Queen's Collection, Windsor Castle. England
The Dean's Collection, Windsor Castle. England
The Government of Ontario. The Parliament Buildings, Ottawa.
The Provincial Parliament, Newfoundland
Awards include an Honorary Degree, Laurentian University, The Ministry of Culture, Rotary International Paul Harris Award, The Ontario Arts Council, Viola MacMillan Award (NOAA), Best of Show - Toronto Festival of Art, Best of Show - Carling Festival of Art, Toronto, Ministry of Citizenship Volunteer Service Award, Paul Harris Fellow Award - Rotary International, The Canada Council, Distinguished Artist Award - LaCloche Art Show, Senior of the Year Award - Little Current and the Islands.
Listed in Canada's Who's Who. 1988-
American Artists Survey of Leading Contemporaries. 1989.
Judge for The Canada Council for the Arts, The Ontario Arts Council. N.O.A.A., Ducks Unlimited, Northern Telecom., Ontario Northland, La Cloche Art Show, Grimsby Festival of Art, NOAAA Annual Show, NOAA Graphics, The Centennial Museum in Sheguiandah, The Art Gallery of Sudbury, Northern Impressions Show - Timmins Museum and Arts Center, Cambrian College, Elliot Lake - Annual Arts on the Trail Competition, Annual Cavalcade of Colours - Onaping Falls, Willisville Mountain Project, Temiskaming Public Art Gallery and others.
Writings include: "The Artists Conception", Manitoulin Expositor, 1985; "Books for Living", Manitoulin Expositor 1986 to 1996; "Weale-isms" - Poole Hall Press, Grimsby.
Catalogues: "The Defasco Collection" (Davia M. Verity); "The Christmas Stocking" (Pam Kruueger) - Art Gallery of Sudbury; "Annual North" - Ministry of Northern Development and Mines; "Trees for Thought" - Sarnia Public Library and Arts Center; "The Acute Image in Canadian Painting" - Owen Art Gallery, Sackville NB; "Ivan Wheale, an Artists Journey" - The Art Gallery of Sudbury; The Franklin Carmichael Art Gallery.
Five Year Weekly TV Program on C.K.S.O. Sudbury.
Member of Advisory Board for The Art Gallery of Sudbury and Cambrian College. Founding Member of the Grimsby Public Art Gallery and the La Cloche Art Show, Panel Member for the Ontario Arts Council - Artists in Schools, Member of Laurentian University's Art Task Force.
Honorary Patron, Laurentian Cancer Care Services.
Past member: The Canadian Society of Painters in Watercolour.
The Society of Canadian Artists.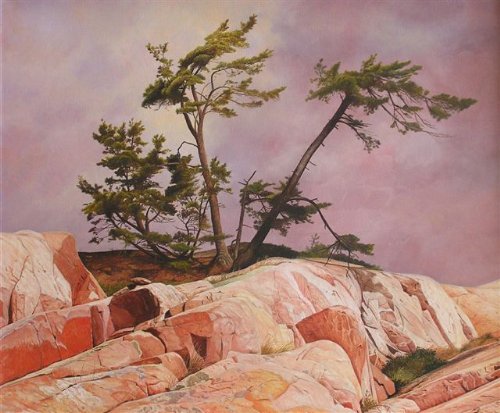 Bay of Island Pine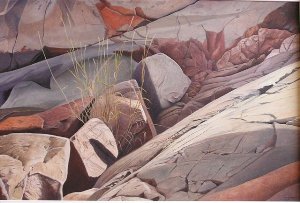 Grass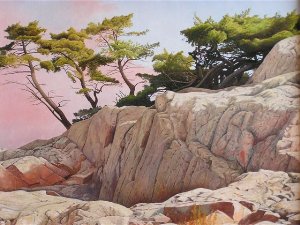 Bay of Island Pine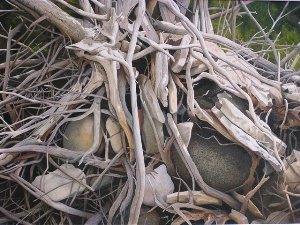 Roots